ROSCOE'S STORY
We adopted Roscoe from PAWS in 2000. He was a pathetic little thing! We were interested in getting a young boxer and he fit the bill. He had been living with a homeless couple in a car for 4 months before PAWS got a hold of him. He was very ill, half bald from mange and severely underweight as you can see in these pictures: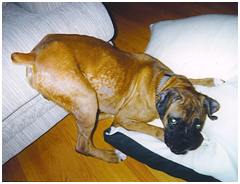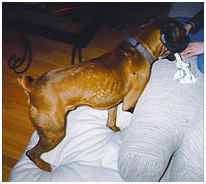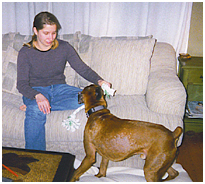 Because he was so ill, he was only able to eat home cooked chicken and rice for the first few months. He did so well on the home cooked diet that we decided to continue feeding him home cooked meals exclusively. We nursed him back to health and as you can see, he was gorgeous (if we do say so ourselves).
Roscoe had the advantage of going to work with Guy at Amazon.com everyday for several years. He has a cameo appearance in the A&E Biography of Jeff Bezos. His home cooked diet was also the subject of a recent Kashi sponsored "The Practical Guide to Healthy Living on MSN" video. Despite his fame, Roscoe's ego never got the better of him.
Our beloved Roscoe passed away on 8/15/10. He had been fighting insulinomas for many months and they became too much for him to bear. Roscoe was more than a companion, he was our inspiration and he captured the hearts of countless people through his story and his loving personality.
It's simply amazing to think about the impact one little dog had on our lives and the lives of so many other animals. If it were not for Roscoe, Roscoe's Ranch would not exist. We would not have found our calling in life and so many Seattle area families would not have found a place they trust with the care of their furry family members. And most importantly, we would not have been able to help out so many dogs, cats and other wildlife. We are able to estimate that at minimum Roscoe was responsible for feeding every dog and cat in the PAWS shelter for over a year and a half! Talk about remembering your roots and giving back.
It's comforting to know that his legacy will live on through the Ranch. He will continue to help other animals from dog heaven. We are extremely lucky to have had Roscoe in our lives.