STAFF BIOS
When Roscoe's Ranch opened in 2004, we were the only employees. Guy worked full time with the dogs while Rena went to another full time job in Renton and then helped in the evenings and on weekends.
As our client base grew rapidly, it was clear that we needed more help to maintain the level of service that our clients were accustomed to. Many people get into this business because they love dogs but they don't have a plan for dealing with growth. With 10+ years of experience under our belts, we can tell you that finding, training and retaining quality employees is one of the most important, and most challenging aspects of our job.
We have been very fortunate over the years to have had wonderful employees who truly care about the dogs. We consider ourselves extremely lucky to have the following quality individuals helping us take care of your pups.
Sincerely,
Guy & Rena and Miss Chloe and Lady Mishka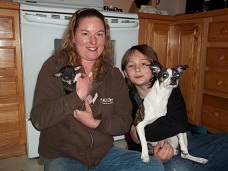 Heather is a manager at the Ranch and has been dishing out the love to our doggie guests for over six years. With lots of love she has a soft spot for little dogs and patience with the nervous pups. She knew at a young age that her dream job would be working with animals. She rescued a kitten found near power lines and named her Zapper, rescued a parakeet named Screech and a dog named HD. Heather has always had animals in her life ranging from dogs, cats, birds, hamsters and fish. On her off time she can be found hanging out with her husband and two kids as well as her Chihuahua named Pepe and Black Lab Mix named Jewels.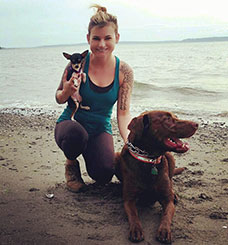 Amy is our General Manager at the ranch. Dogs have always played a big part in her life since she can remember. Most of her spare time as a child was spent training or playing with one of her many four-legged friends. She spent all of her grade school years in Europe with her family before returning to the U.S. in 2006 to attend university. Amy studied sociology and animal psychology at the University of Massachusetts in Amherst. She graduated with honors in 2010 and shortly thereafter, made the move out to the Pacific Northwest. Currently, Amy lives in Monroe with her boyfriend and their three dogs; Woods, Jaws and Ruby. Woods is a rambunctious Fox Terrier who loves to play fetch, Jaws is a Belgian Malinois who is a little too smart for his own good, and then there is Ruby- a teacup Chihuahua, who gets to ride along with mom to work every day and live the good life on the Ranch!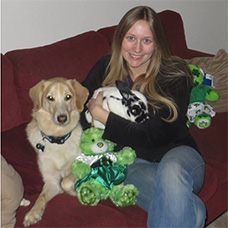 Michelle loves all kinds of animals, but she has always had a passion for dogs. She enjoyed working as a groomer for a couple years, before taking a job in childcare. While working with kids was a rewarding experience, she is very happy to be back in a career with dogs. Whether it be scooping poop or walking and playing with the dogs, she loves it all. Currently Michelle only has 4-legged children, a rescued Lab mix named Luka and a bunny named Lilly. Luka is definitely a momma's boy and she wouldn't have it any other way.